Group V
Communicable Desease
14 May 2014


Rahmad BakhtiarIn The 8th Postgraduate Forum on Health Systems and Policy held at UGM, Rahmat Bahtiar on the second day revealed that the rate of detection of TB cases in the province of East Kalimantan is below the national target . On the other hand , in line with WHO in order to create a strategy that emphasizes strategies for develop case finding in patients with TB, in 2008 the provincial health authority has also made several interventions.
According to focus on the problems found, intervention efforts that have been made by the medical center did not show an increase in case detection. This is because the implementation of case finding is not consistent due to constrained by the resources ( budget ), lack of monitoring and evaluation in the implementation and the lack of feedback from the district health authorities.
---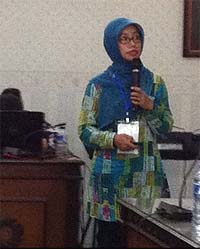 Wienta diarsvitri
Unlike the previous speaker, Wienta Diarsvitri last speaker in the session as well Communicable Disease ( DC ) chose the theme of the risk of HIV among key populations. Research conducted at the Hospital Dr Ramlan Surabaya and Sidoarjo District Government Hospital as many as 70 HIV treatment. In males accounted for 51.4 %, the remaining women with a mean age of 34.4 years of age respondents Lowest 19 years.
Viewed from the perspective of education, Housewives have higher education while on Women Sex Workers ( FSW ) with a basic education. Yet both are only of 45.8 % that has the knowledge and aware of the risks of HIV infection in general. This fact is compounded by not wearing a condom during intercourse with a partner either permanent or casual. According to him , the people and the government should be more concerned about the risk group . Realizing all of this of course is very important to strengthen HIV prevention programs, especially at -risk groups need to increase education and counseling governing law.