International Seminar on
Social determinants of health and Policy Making :
Is there any role for researcher and academic ?
Yogyakarta, 20 February 2012, 08.30 – 12.30
Background
Factors that influence health and quality of life are known as determinants of health. The social, cultural and economic factors that influence health are often described as the social determinants of health [1].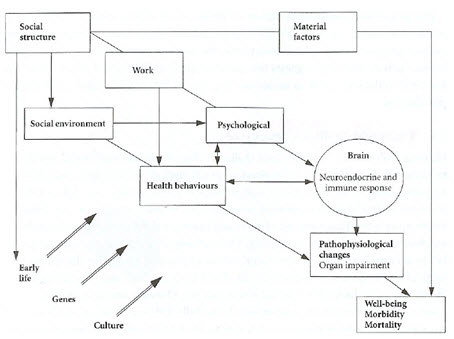 It is common knowledge that "individuals and their health cannot be understood solely by looking inside their bodies and brains; one must also look inside their communities, their networks, their families and even trajectories of their life. The root of health inequalities is deeply ingrained in our social structures as is illustrated in Figure 1.
"The unequal distribution of power, income, goods, and services, globally and nationally, cause unfairness in circumstances of peoples' lives – their access to health care, schools, and education, their conditions of work and leisure, their homes, communities, towns, or cities – and their chances of leading a flourishing life. This unequal distribution of health-damaging experiences is the result of a toxic combination of poor social policies, unfair economic arrangements, and bad politics. Together, the structural determinants and conditions of daily life constitute the social determinants of health and are responsible for a major part of health inequities between and within countries".
The Commission on Social Determinants of Health has called on the World Health Organisation (WHO) and all governments to lead global action on the social determinants of health with the aim of achieving health equity. To implement a social determinant approach, governments need to have setting-specific, timely and relevant evidence on the relationship between determinants and outcomes. Such information is however limited, especially in low- and middle-income countries (LMICs). This calls for more research on social determinants of health and demands capacity-building activities to enable such research.
The aim of the research on social determinants of health is to support health policy change by assembling and promoting effective evidence-based models and practices that address social determinants of health [2].
It is well-known that "the true upstream drivers of health inequities reside in the social, economic and political environments" shaped by respective policies. "Showing how social factors directly shape health outcomes and explain inequities, one can challenge health programmes and policies to tackle the leading causes of ill-health at their roots, even when the causes lie beyond the direct control of the health sector".
While it might be obvious that poverty is at the root of much of the health problems, it is less obvious how to break the link between poverty and disease. Evidence available to us nowadays provides incomplete explanations and often cannot be applied to resource poor settings, such as health systems of LMICs. The latest WHO report on "Equity, social determinants and public health programmes" clearly shows that the research must lead the way in demonstrating the relevance, feasibility and value of addressing social determinants. The next step is translation of the knowledge into concrete, workable actions through identifying entry-points, establishing cooperation with the key stakeholders and identifying possible sources of resistance or opposition as well as possible sources of support.
This international seminar aims to bring together researchers, academics, decision-makers and other stakeholders for discussing:
Social Determinants of Health in policy making,
Social Determinants of Health and human resources education
Social Determinantsof Health development in international setting.
The Indonesian context of the role of researcher and academic in Social Determinants of Health policy making.
All the session will be chaired by Mubasysyir Hasan Basri.
Speaker are :
Laksono Trisnantoro is Professor in Faculty of Medicine UGM
Untung Suseno is expert staff of Minister of Health in Financing Expert
John Kinsman is expert in Public Health and Clinical Medicine, UMEA University
Time and Place:
Monday, 20th of February: 08.30 – 12.00
Senate Room. Faculty of Medicine Universitas Gadjah Mada
Jalan Farmako, Bulaksumur Yogyakarta Indonesia.
Participants :
14 Workinggroups from Faculty Medicine UGM
ISS (INTREC Social Scienctist) Training Workshop Participants
Dean Faculty of Medicine UNS Surakarta
Dean Faculty of Public Health UNDIP Semarang
Dean Faculty of Medicine UMY, Yogyakarta
Dean Faculty of Medicine UII, Yogyakarta
Dean Faculty of Medicine UKDW, Yogyakarta
For more further information :
Sdri. Angelina Yusridar / Ratna
Pusat Manajemen Pelayanan Kesehatan
Fakultas Kedokteran Universitas Gadjah Mada
Telp. +62274-549425
Email: This email address is being protected from spambots. You need JavaScript enabled to view it. atau This email address is being protected from spambots. You need JavaScript enabled to view it.
References :
Brunner E, Marmot M: Social organisation, stress and health. In Social determinants of health Second ed. Edited by Marmot M, Wilkinson RG. Oxford University Press; 2006:54-77.
Marmot M: Social determinnats of health inequalities. Lancet 2005, 365 (9464):1099-1104.