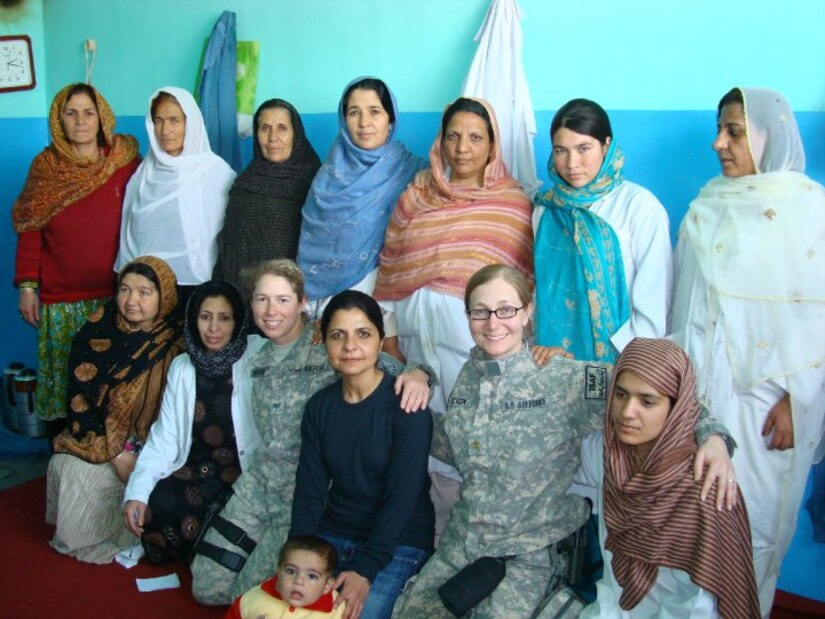 FALLS CHURCH, Va. --
Air Force Lt. Col. (Dr.) Elizabeth Erickson's experiences in military health outreach around the world allows her to build strong partnerships, and her position as a female officer and physician has given her the unique opportunity to work with and learn from inspiring women around the globe.
The Air Force Medical Service participates in international medical outreach efforts, called global health engagements, to strengthen relationships with partner nations that bear fruit diplomatically and medically.
Building Strong Relationships With Allies, Partners
GHEs include a broad range of international medical activities undertaken by the U.S. military. These activities help to build strong relationships with allies and partners, increase military medical interoperability between nations and build global capacity to address health security threats.
"For example, we work with some partner nations on biosurveillance in order to better detect and respond to outbreaks, so they do not become larger health security crises," Erickson said.
Erickson, a family physician and currently a preventive medicine resident at the Uniformed Services University of the Health Sciences in Bethesda, Maryland, always had an interest in working and studying abroad. Before joining the Air Force, she studied and volunteered in India and Africa.
In the Air Force, after assignments in Turkey and Germany and a deployment to Afghanistan, she was an international health specialist at Pacific Air Forces and U.S. Pacific Command.
"I was always interested in having a global perspective on care, so I gravitated towards these unique opportunities," Erickson said. "As an international health specialist, I planned and executed GHEs, coordinated Department of Defense health activities across the Indo-Asia-Pacific region, and developed strategies to use health engagements to achieve national security objectives."
Service in Afghanistan
Erickson's GHE experiences allow her to apply and expand intercultural, medical and military skills. As a female officer, she had opportunities to support the health and empowerment of women in multiple countries, specifically in Afghanistan.
From July 2009 to March 2010, Erickson served as senior medical officer and director of Women's Affairs on the Zabul Provincial Reconstruction Team in Afghanistan. She and her team executed programs that supported the local government and improved the health and well-being of the local population, especially women and children. The team engaged with the local Ministry for Women's Affairs representatives, female health care providers at local hospitals and the province's only girls' school.
"It was a priority for our commander to find sustainable ways to improve the lives of Afghan women," Erickson said. "One project provided women with solar stoves. We found that women were inhaling harmful smoke while cooking with charcoal and wood, and we wanted to provide an alternative cooking method that would ultimately improve their health."
The three medical Air Force women on the PRT met regularly with local female health care providers.
"We developed strong relationships with them and learned about their challenges," Erickson said. "We conducted training on basic life support in obstetrics to help them recognize potentially life-threatening events that happen during childbirth and prepared them to manage those events."
International Women's Day Event
While in Afghanistan, Erickson participated in an International Women's Day event. Local women -- including the female nurses and physicians she had worked with so closely -- gave speeches, performed music and recited poetry.
"It was special to see our friends, these women we became so close with, share their hopes for peace and stability in Afghanistan," Erickson said.
Erickson's experiences serve as an important reminder that female military leaders and medical personnel are vital for full-spectrum global health engagement, and she encourages other female medical airmen to pursue opportunities in GHE.
"There are some really inspiring women in our partner nations, and it was a rewarding experience to meet and work with them," Erickson said. "Many times, my female counterparts and I built a special bond and we worked together to move health cooperation between our militaries forward."
She added, "We should encourage more women to become leaders on both sides of the GHE community to improve our engagements with our partner nations and the global military medical community."
source: https://www.defense.gov/News/Article/Article/1496686/face-of-defense-doctor-builds-partnerships-through-global-health-engagement/